Šok
Creating an intelligent, interactive artwork for Creartathon 2021



Role: Interaction Designer
Duration: August–September 2021 (1 month)
Team: Julia Biesiada, Arnaud Bridou, Rūta Binkytė-Sadauskienė, Wissal Sahel
Link: Creartathon 2021 website, Creartathon 2021 video


The Challenge 💡

Design a creative, intelligent and interactive artifact for an artist that creates a true artist-computer partnership.



Students in art, human-computer interaction (HCI), industrial design and artificial intelligence (AI) were all brought together to collaborate in a creative hackathon over the course of one week. We worked in groups of five students and were mentored throughout the week by four guest artists, HCI and AI faculty coaches, and fablab experts.

Our days and nights were spent discussing our respective disciplines' methods, theories and perspectives, adapting and evolving our understanding of design and the challenge at hand with approaches from all four disciplines. Our artistic, design, material and technological choices and ideas were challenged everyday by our coaches, empowering us to evolve our concept.

We all had to learn and do a little bit of everything by the bootstraps to achieve our vision: We researched, drew, glued, cut, lasered, danced, programmed, wrote, re-drew, re-wrote, reused and reiterated every single day to explore the artistic, technological, interactive and design perspectives of our artwork.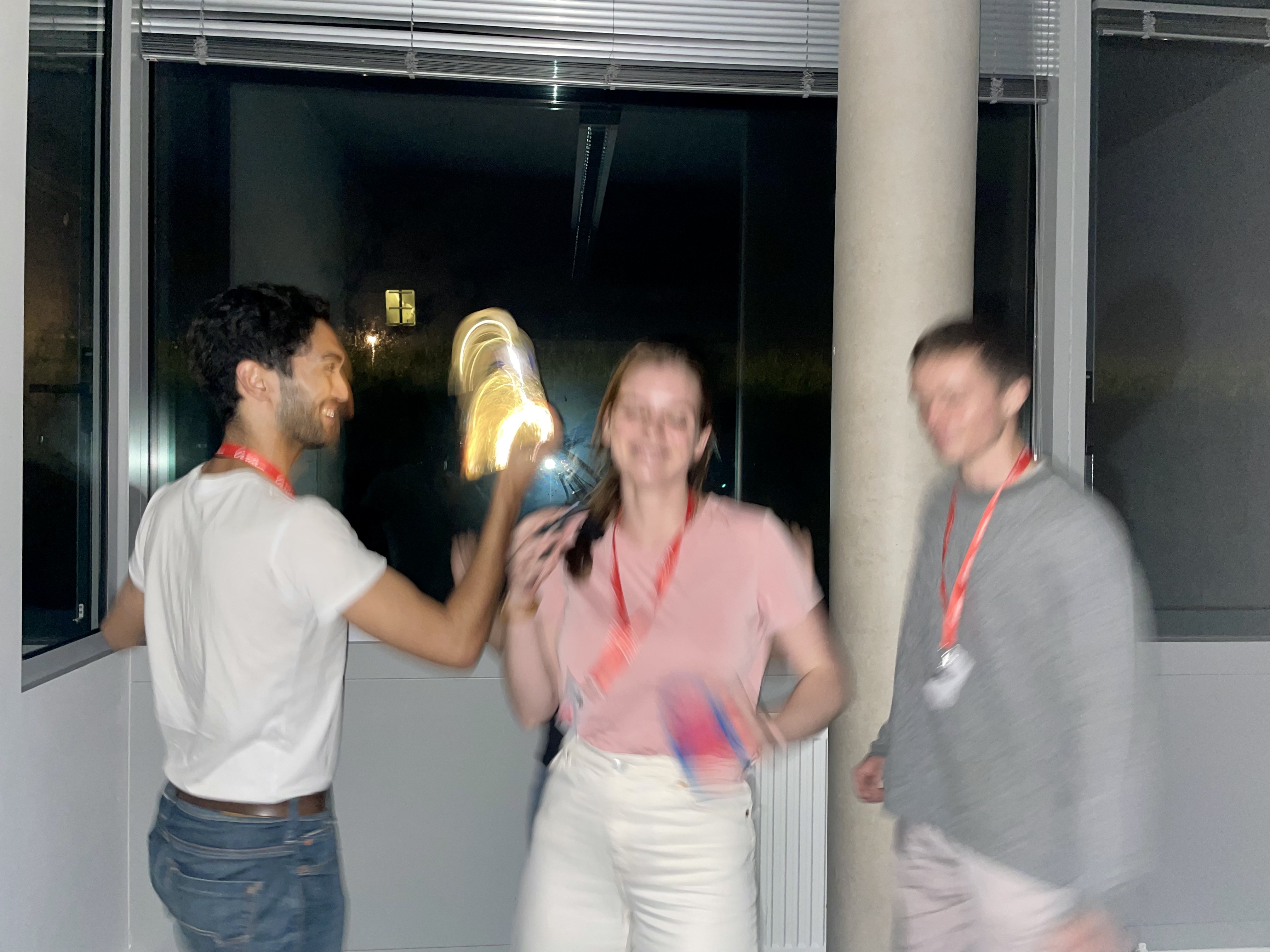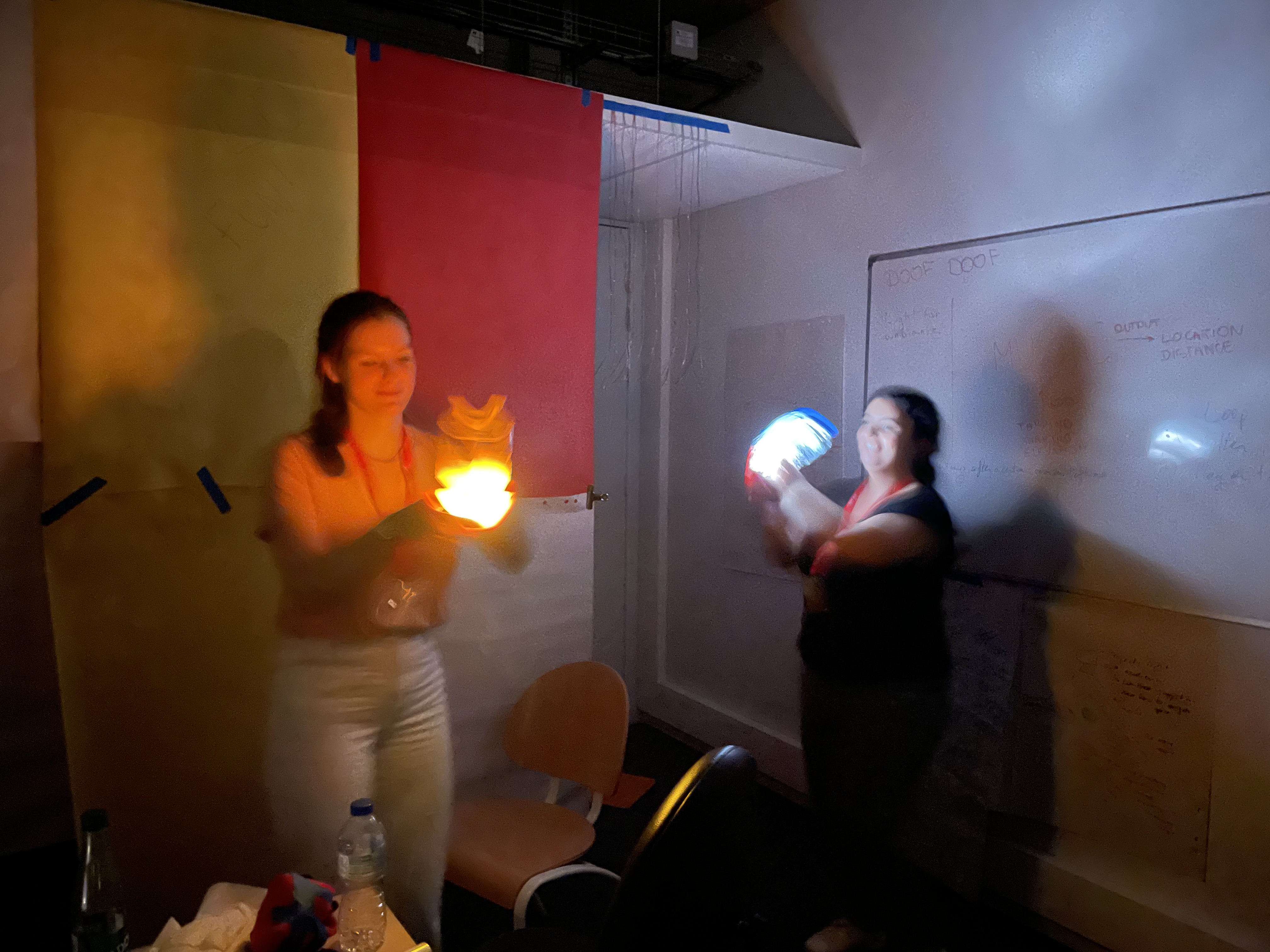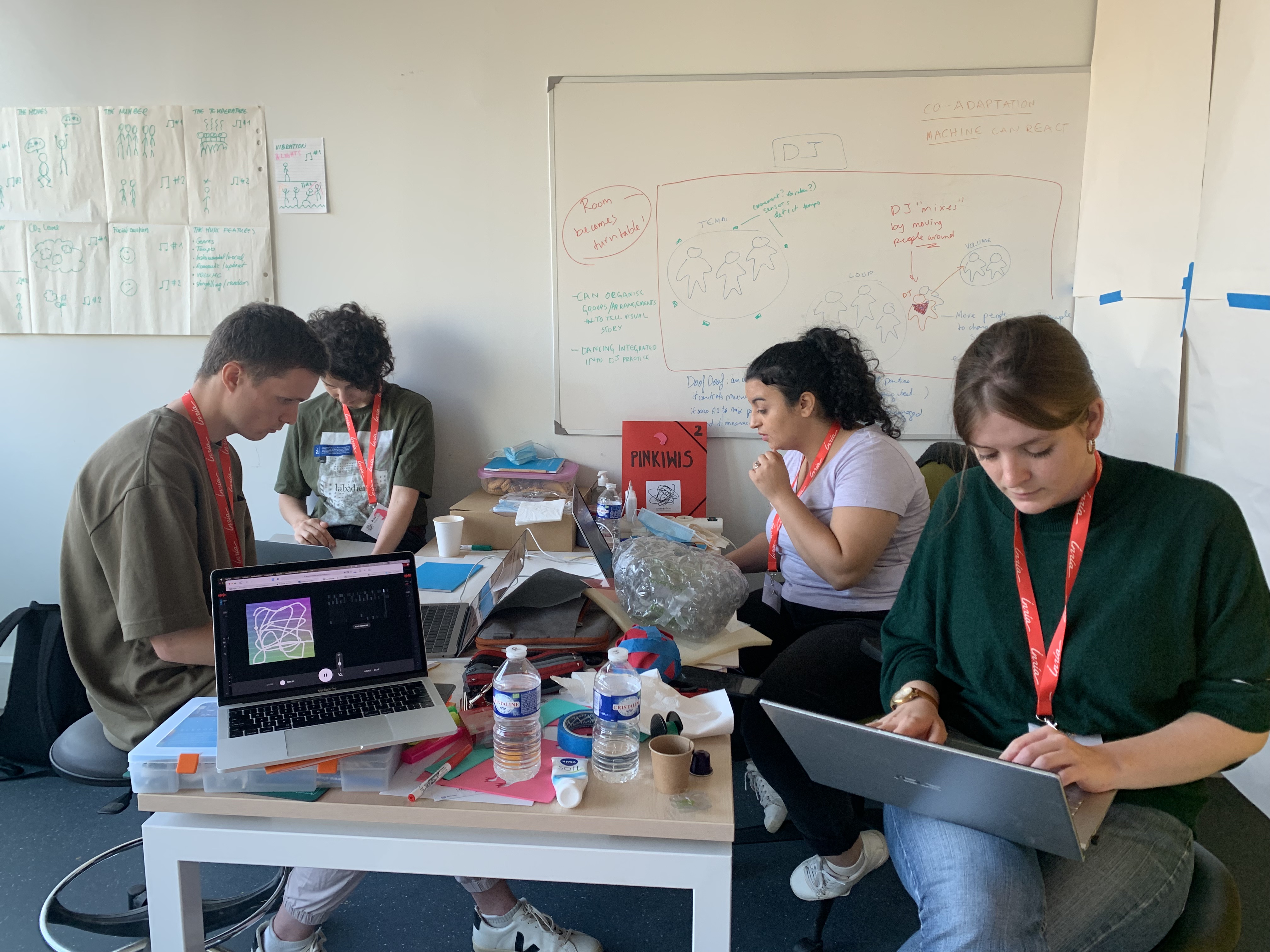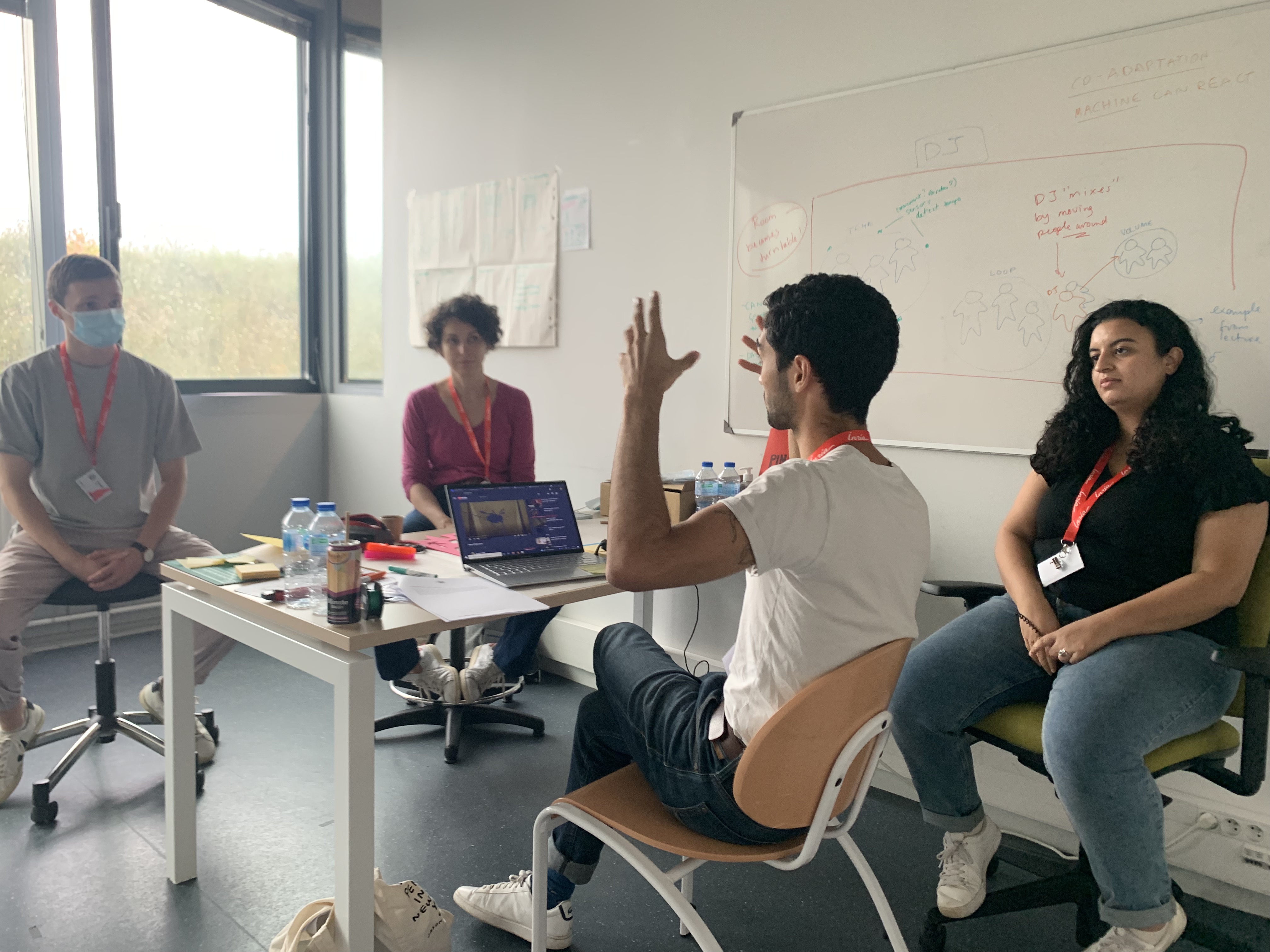 The Artwork 🔮
On our first day, we stumbled across the late Félix González-Torres and his work Untitled (Go-Go Dancing Platform), as well as DJ Jacques and his live music performances with everyday objects. We also drew inspiration from renowned nightclubs around the world, such as the Carsten Höller's Double Clubs. We were inspired by the artist-public partnerships of the performances through dance and objects, as well as the multidisciplinary dialogue created by the double clubs, so we sought to incarnate the essence of these works through an artist-computer partnership.

Throughout the week, we found ourselves going back to the same question:


How might we synthesize the essence of a nightclub through reinforcement learning?

We began the conception of our artwork by decomposing the nightclub atmosphere into their two key ingredients: Lights and music. We understood that each person that steps into and dances in a nightclub suddenly becomes their own self-proclaimed artist—no less like the people that perform González-Torres' work, particularly as many exhibitions of this work were performed by non-professional dancers. Our brainstorming and discussions eventually synthetised into an artifact that captured these key ingredients and tangibly enabled an artist-computer partnership: A disco ball.




We used plexiglass and one-way mirror film to create a hollow and semi-transparent ball that emulated the fragility of the nightclub space: In the dark, its LEDs that shine and reflect off the mirror film, in combination with the music emanating from its speakers, create a mysterious artifact that encourages the public of self-proclaimed artists to go towards it and interact with it, much like a nightclub seen from the outside. However, like any nightclub, it could be seen for all it was once the lights were turned on: A hotchpotch of fragile sensors and circuits whose lights fade and reflections disappear.




A set of gyroscope, distance, pressure and touch sensors enabled the disco ball to detect the presence of humans around it and adapt the music it automatically mixed and generated and the light patterns it generated based on how it is interacted with. We developed a reinforcement learning algorithm that learned from people's movements to determine whether a given music and light mix was desirable or not. The more people touch and play with it, the more the mix of music and lights is perceived as desirable; the less it was interacted with—if at all—then the mix is determined as undesirable.




Šok means dance in Lithuanian—precisely all that we aimed to achieve with our artwork through touch and movement. Like González-Torres' platform, Šok is presented as a minimalist artwork on its own. However, when someone comes into its proximity and interacts with it, an ephemeral artist-computer partnership is instantiated. Each visiting artist becomes a performance co-creator by associating their movement, interaction and dancing to the automatically mixed and generated music, which shapes the experience for the next visiting artist.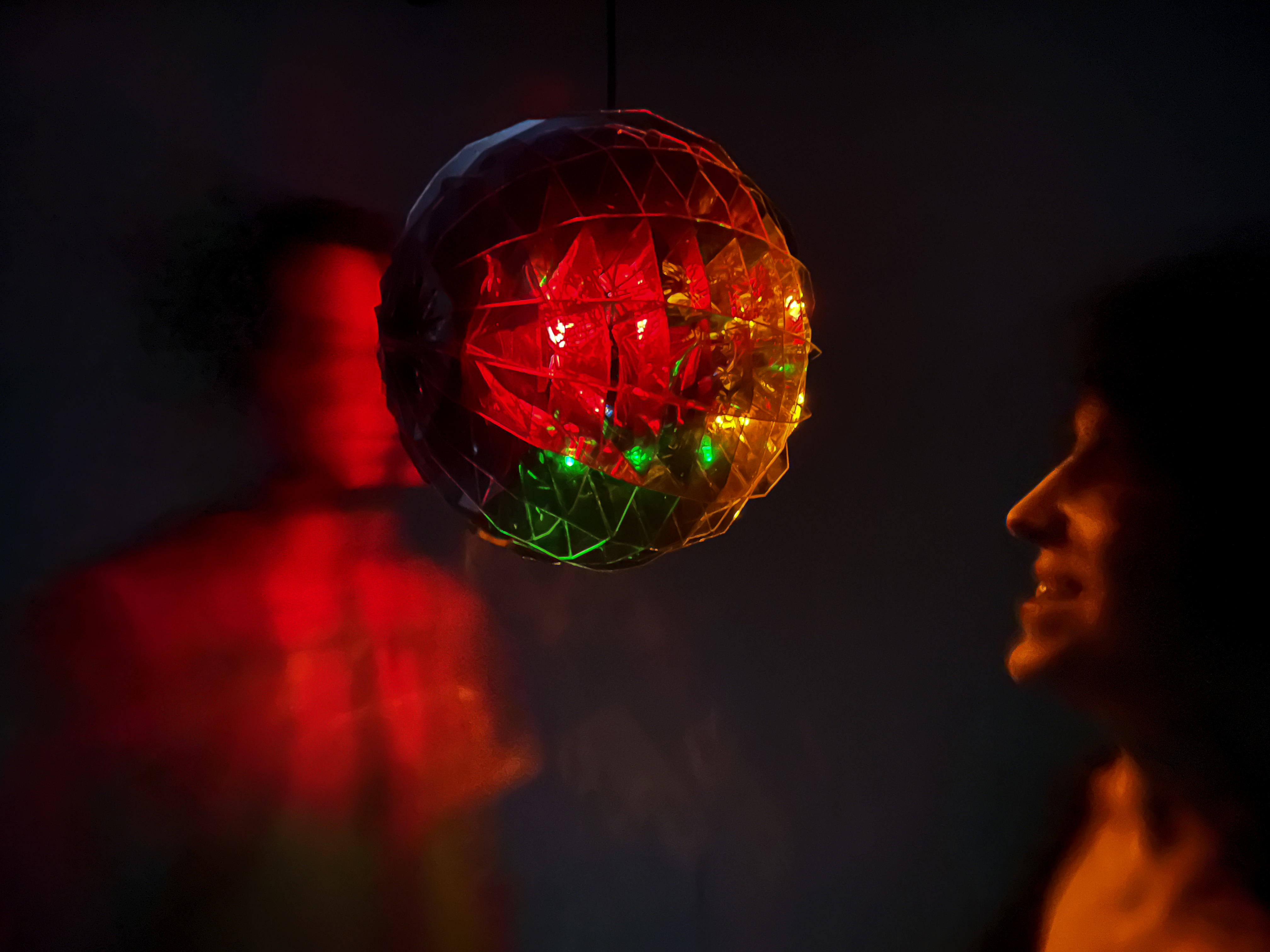 Over time, this artist-computer partnership propelled by reinforcement learning gives us a glimpse into the core of the essence of a nightclub. Most importantly, Šok is, in its own way, a platform to get you to dance.


The Exhibition 🖼




Šok, along with the other Creartathon artworks, were exhibited over the weekend of 4–5 September 2021 at Galerie Joseph, 66 rue Charlot, 75003 Paris.